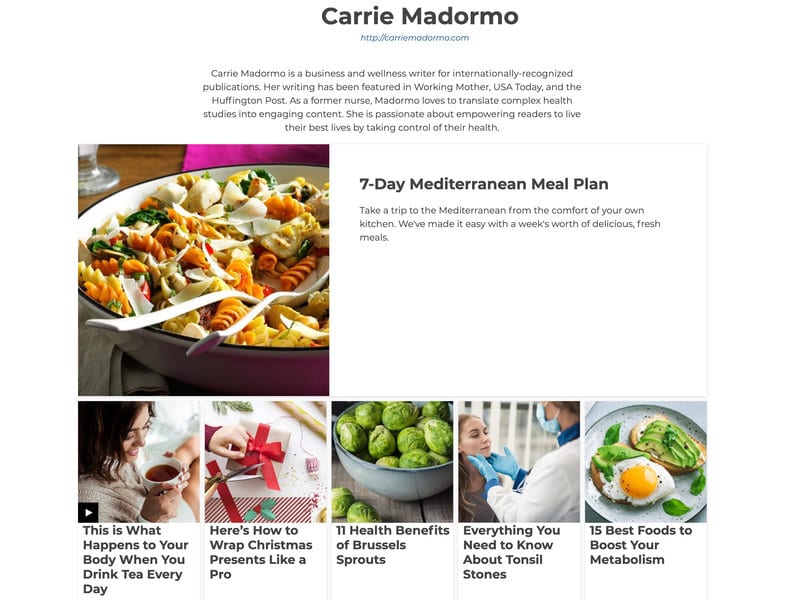 23 Awesome Jobs for Writers That Offer Real Opportunities
Here's a news flash: Good jobs for writers really do exist. You can parlay your love of the written word into a paying gig. The truth is that the technology, media, entertainment, public relations, marketing, publishing, and advertising industries all need people who can craft high-quality content. The range of possible writing careers is far broader than you might expect.
But, as with any creative field, it can be difficult to pinpoint opportunities. That's partly because writing jobs, in contrast to other occupations, don't follow a set formula. (If you want to become an engineer, you get an engineering degree. If your goal is to become a nurse, you complete a nursing program. But if you dream of becoming a writer, the path you need to take isn't nearly as clear-cut.)
That's why we've compiled a list of 23 jobs for many types of writers across many different fields. We've also included some tips on how to find legit freelance writing opportunities. And if you're wondering how to support yourself while getting established, you might want to check out our suggestions for day jobs that let you write on the side.
Jobs for Writers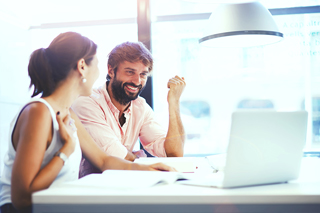 Writing is a natural fit for online or at-home work, so you don't have to be limited to jobs in your local area. Whether your interests run to business, technology, news, public relations, or the arts, you can probably find a writing job to suit you. Many of the jobs on this list even pay pretty well. Here are just a few examples of careers in writing that you may want to consider:
1. Content strategist
Content strategists combine strong writing and communication skills with analytical thinking and marketing know-how to plan, create, and manage online content that achieves specific business goals. They apply principles of search engine optimization (SEO) and study analytics to figure out what kind of content is working (and what kind isn't) so that they can adjust their strategy accordingly. Training in journalism, communications, or technical writing can be a good first step toward this career.
2. Communications director
Overseeing various types of corporate communications and making sure the public views your company in a favorable light requires a blend of top-notch writing and marketing skills. In this role, you establish the communications goals of a company and develop branding and style guidelines for press releases, articles, newsletters, email campaigns, advertisements, and other marketing materials. This is a high-level position that requires several years of experience; be prepared to work your way up.
3. Technical writer
A key skill for any technical writer is the ability to take complex technical jargon and turn it into plain English. These writers design and develop software manuals, user guides, technical specifications, and other complex documentation. A big part of the job involves drawing useful and relevant information out of software developers, engineers, and other professionals, so solid interpersonal skills are essential. Of all jobs in writing, this one has one of the best outlooks: It's expected to see faster-than-average job growth between 2020 and 2030, according to the OOH.
4. Proposal writer
A common fixture in consulting firms and sales departments, proposal writers prepare documents related to pricing, marketing, and product design. They assess requests for proposals (RFPs) and develop responses to help their employers win new business and secure contracts. To succeed in this role, you need excellent organizational and writing skills as well as an eye for detail and a solid understanding of how your company can meet the needs of potential clients.
5. Grant writer
Crafting proposals to secure financial support for foundations, non-profit agencies, and other organizations is a responsibility that falls to grant writers. They are a key part of the fundraising staff in many places. Grant writers are in charge of identifying funding sources and developing written materials that target each potential donor. Flexibility is important; some donors expect a one-page document, while others look for much lengthier proposals.
6. Web content writer
Many companies need writers who are highly skilled in researching and writing digital content like blogs, articles, and landing pages. You might be required to conduct online research or interview subject matter experts to gather information. Having some knowledge of search engine optimization (SEO) techniques is very helpful.
7. Speechwriter
It's not just politicians and government officials that rely on speechwriters: You could also work for business executives, notable celebrities, or public relations firms. To do this job effectively, you need to be able to write persuasively about policies or principles that you may not always agree with. A degree in journalism, communications, or political science is a good place to start. Joining Toastmasters or observing debates can also be good training.
8. Screenwriter
Do you dream of creating the next Hollywood blockbuster? Screenwriters are the creative energy behind films and television shows. You could adapt a novel for the big screen, write an episode of an established show, or develop an original movie script from scratch. You need to understand the basic structure of a screenplay as well as how to create interesting characters and write peppy dialog. You also need to be open to constructive criticism: Making revisions is how screenwriters spend most of their time.
9. Novelist
When people think of careers in writing, this is often one of the first that comes to mind. If you can create compelling characters that people want to know more about, and put them in unique situations that force them to tackle a problem or undergo a change, you might have what it takes to make it as a novelist. It's not enough to have a great idea; you also need to develop an outline and work out plot points, dialog styles, and character arcs. Traditionally, novelists have worked with literary agents to market and sell their books, but self-publishing is an increasingly popular option.
Passive Income Ideas for Writers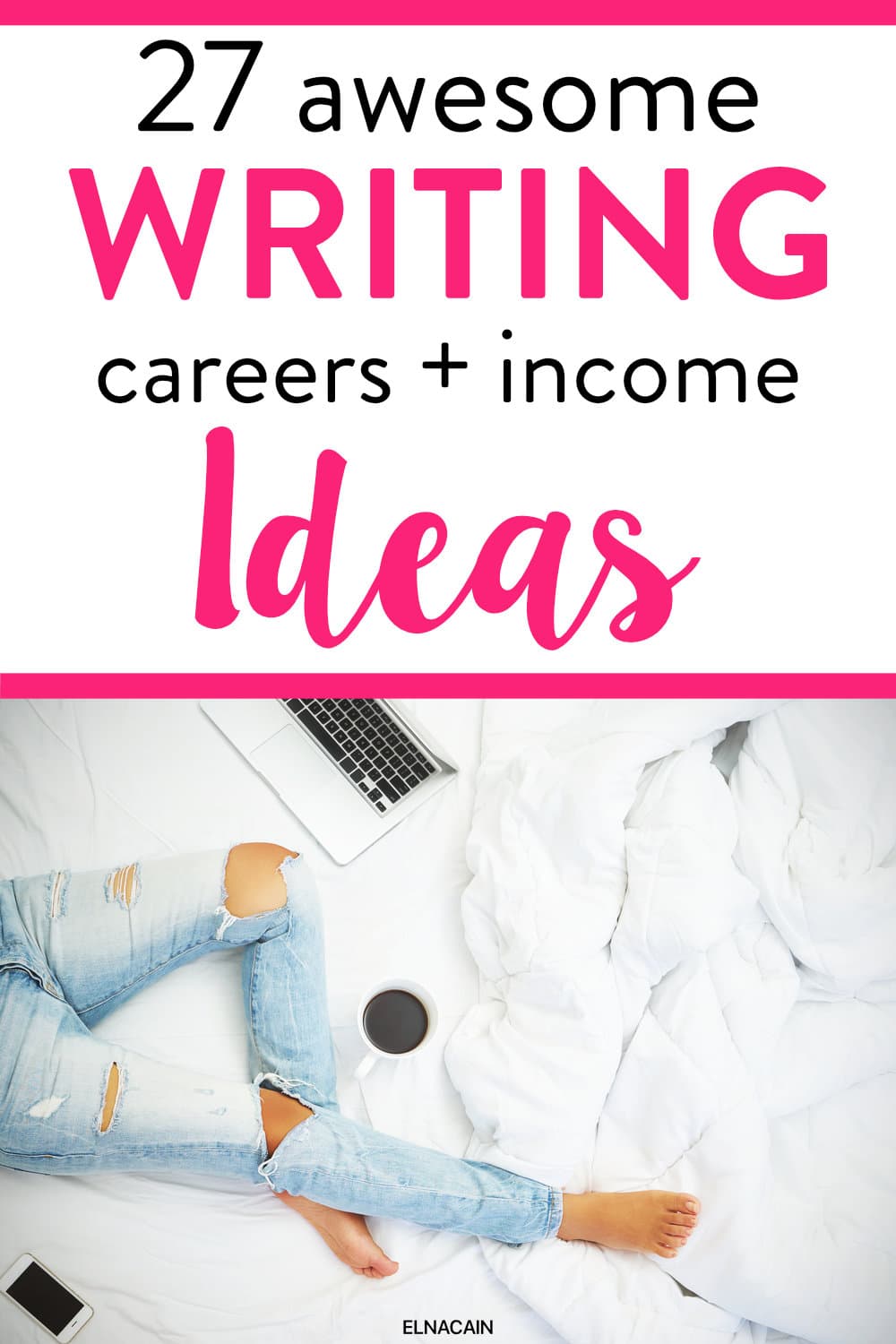 If you want to make passive income with your writing, with this career path you can do for years to come is a totally viable option.
If you've always loved writing or using it as a creative outlet, having a profession as a writer can totally help you turn this love into a business. And once you start on this path, there are soo many opportunities to make passive income.
1. Niche Product Affiliate Marketing
Affiliate marketing is the process of getting a commission from a product, tool, or service you promote. For example, I'm an affiliate for a job board, books, and courses. All of these are from solopreneurs and make up my niche product affiliate marketing strategy.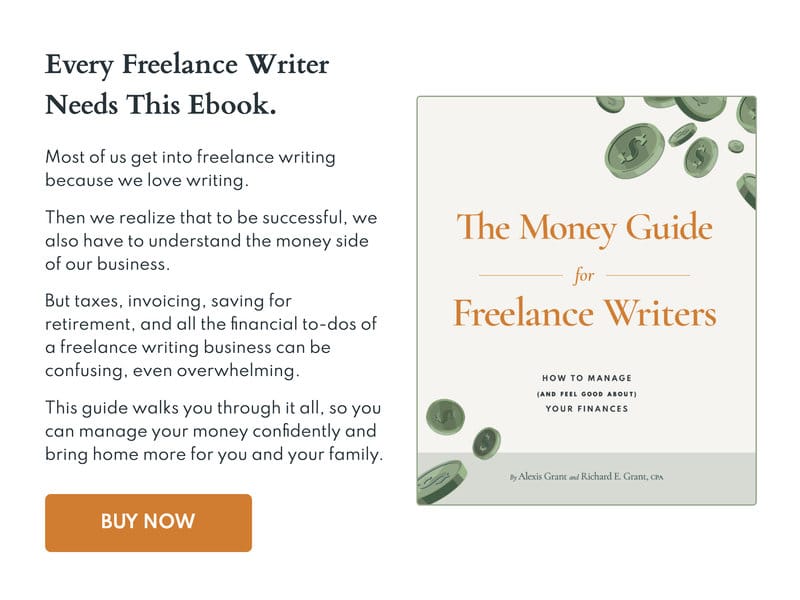 2. Join An Affiliate Network to Make Money
For one of my passion blogs, I use Amazon for my affiliate marketing strategy. I find it easy to find parenting and pregnancy products on Amazon and, if I'm lucky, I'll make a sale for these low-priced products and earn a small commission. Many bloggers make five or six figures purely with affiliate marketing. For me, I make a healthy income!
3. Join an Ad Network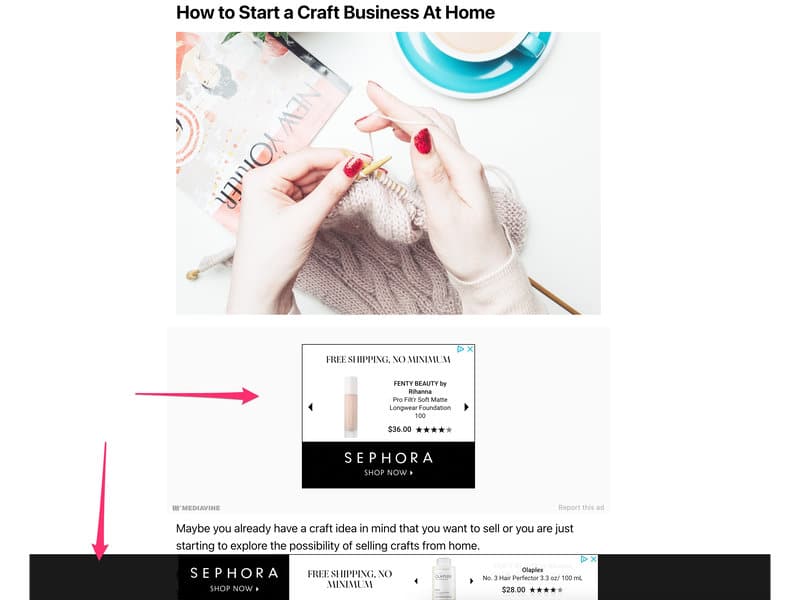 People who read blogs expect ads on posts, so it doesn't really phase them, and since I get paid on impressions (just viewing the ads on the blog post) and not clicks, it doesn't bother me anymore.
4. Create a Small Digital Product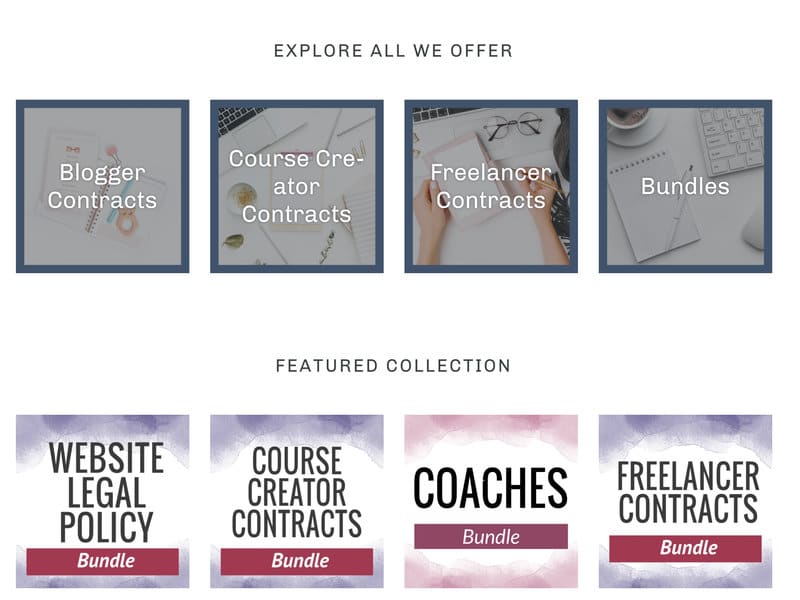 5. Write a Book
I mentioned Meera, a Writeto1k course student, and how successful she is at selling her books on Amazon. From informational gooks, to entertainment books and more, you can self-publish a book and sell it online.
6. Start a Youtube Channel
So, how do you make money on Youtube? Once you achieve 4,000 watch hours and have 1,000 subscribers, you can start monetizing your videos. I have reached that threshold for my Youtube channel and am excited for this new passive income for my business.
7. Create a Digital Course
Whether you are a general writer, writing online or a journalist touring the world, you can create a digital course for your audience. The first course I ever created was Write Your Way to Your First 800k, and over time, I've created many more courses.
While you might think you have to create a huge A-Z course, it isn't true. Creating something smaller – like a masterclass or webinar – is an easier way to start making money with your writing.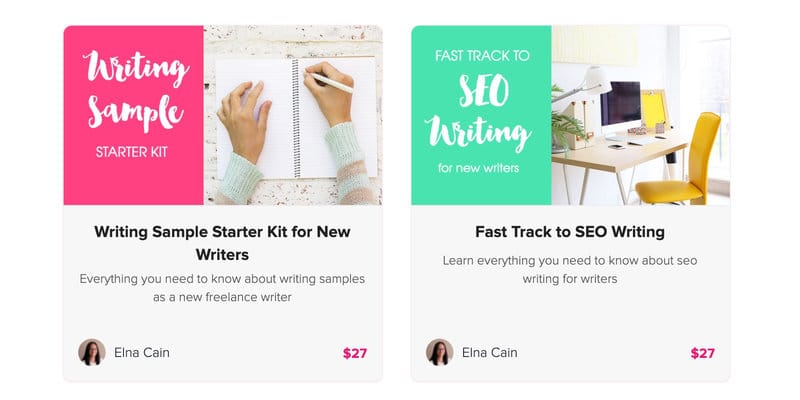 8. Start Another Blog
9. Use Patreon
10. Offer Paid Subscription (Substack)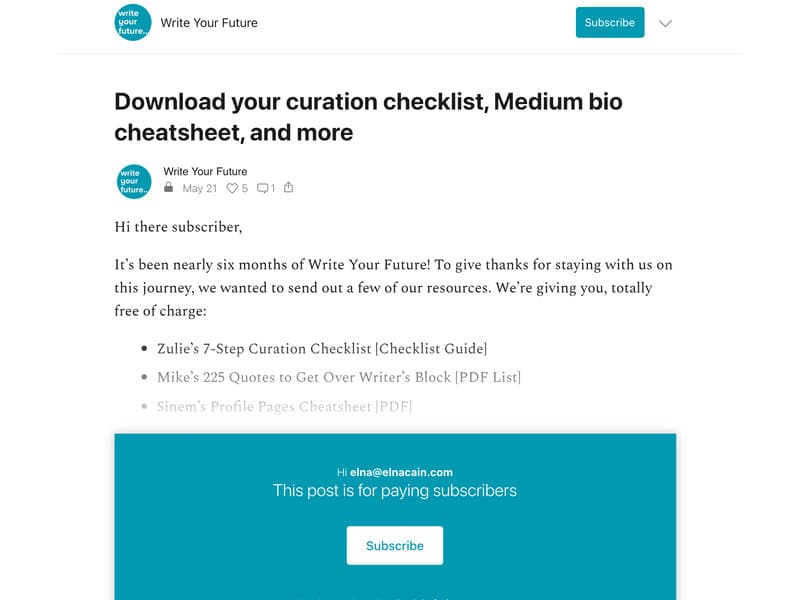 11. Use Wattpad
12. Commission Based Copywriting
Managing the business side of writing jobs
Choosing employee versus freelancer
If you're reading this article, chances are you've already chosen the freelancer path. However, successful freelancers regularly get full-time job opportunities from clients or recruiters approaching them. And if you're struggling to build your freelance business, a full-time job can be an attractive option.
So the key is not just that you chose the freelance path once, it's that you have to continually choose to be a freelancer. You have to value the freedom that freelancing gives you more than you want the stability of a paycheck.
Technology
Finance and admin
Legal and contracts
If you're working with a freelance job board or marketplace, they will often give you standard contracts to use. However, you should always check with a lawyer to make sure your contracts work for your unique circumstances.
Ongoing learning
Whether you take a course to learn more about writing, interview people in different fields, conduct your own research, or even consider getting a journalism degree, you have to be committed to ongoing learning. You don't have to spend tons of money here. For example, you could read a few magazines from a library or take an inexpensive DIY online course, but the key is to push yourself to learn more so you can bring that experience to your client projects.
Learning is also how you can pick up different kinds of jobs in your career. For example, you might want to become a speechwriter instead of a being one of many copywriters in your niche. If you take a speech writing course, for example, you can transition your career immediately—and many courses will even show you how to land new clients and build the right marketing materials to update your personal website.
Source:
https://www.trade-schools.net/articles/jobs-for-writers
https://elnacain.com/blog/writing-careers/
https://www.waveapps.com/freelancing/writing/the-best-writing-jobs