How to End a Letter
Wondering how to end a letter? You've come to the right place. Throughout the stages of your professional life , you'll inevitably find yourself writing letters — letters of interest, thank you letters and resignation letters, to name a few. These letters are more formal and significant than a simple email or text, and should be crafted with care. While the body of a letter will convey the majority of your message, the conclusion shouldn't be underestimated. The end of a letter is the last thing you share with a reader, and mishaps in tone or message could up-end the rest of your writing. A skillful closing will strengthen the intent of your previous passages and leave the audience with a lasting impression of your letter. Read below for advice on and examples of stellar concluding paragraphs and salutations.
After a sentence or two of review, close your letters with a call to action. Hubspot writer Clifford Chi explains , "These call-to-actions are crucial because they tell them how to get the ball rolling." By outlining next steps at the end, you let the reader know what you want the outcome of the letter to be , and provide them with concrete suggestions for how they can move forward . Without guidance, the reader may be unsure of what should happen next. Phrases like " looking forward to speaking" and " excited to offer more information" encourage a colleague to take action without being pushy.
For a letter of interest
"I'm excited by the idea of working in a larger market and for a company that is constantly innovating and recognized as an industry leader. I've enclosed my resume, which outlines my experience and skills. I'd love to sit down and talk with you about Alpha Beta's explosive growth and new user acquisition strategy. Would you be open to meeting with me at your convenience?" — Grammarly writer Karen Hertzberg
For a cover letter
"If I am offered this position, I will be ready to hit the ground running and help XYZ Company exceed its own expectations for success. I would appreciate the opportunity to meet with you to discuss how my qualifications will be beneficial to your organization's success. I will call you next Tuesday to follow up on my application and arrange for an interview." — Glassdoor writer Heather Huhman
For a resignation letter
" I'm committed to making this transition period as smooth as possible. I'll continue to work on my [SPECIFIC JOB RESPONSIBILITIES] until my resignation. Following my departure, [COLLEAGUE/REPLACEMENT] will be the new point of contact. I look forward to staying in touch, and please feel free to add my personal email to your address book: [PERSONAL EMAIL]." — Glassdoor writer Caroline Gray
What sign-off should I use for a business letter?
The salutation at the end of a letter may seem little more than a phrase to throw in before your signature , but it is more important than you might initially assume. Think about it this way: what would happen if you put "XOXO" instead of "Sincerely" at the end of a letter to your boss?
When considering how to end a letter, keep in mind that c hoosing the wrong closing phrase can throw off the tone of your letter and confuse your audience. Below are sign-offs to use for a variety of scenarios, so regardless of your reader, we've got you covered.
The basics
These simple phrases are appropriate sign-offs for pretty much any letter. While they are a bit stuffy and less personal than a specialized outro, they are always a safe bet, especially when you are addressing someone you have never met before .
When corresponding with someone you know
If you're corresponding with a colleague or professional who you know, you have to strike the right balance between friendly and work appropriate . These endings are warm without being too intimate or laid back.
Even more letter endings
If you still haven't found the right closing phrase, these letter endings are all suitable for professional letters. Keep in mind, these send-offs won't fit all scenarios like the basics will, so be cognizant of the tone of your letter when deciding which salutation is appropriate.
Closing phrases you should never use
You may have good intentions behind including this phrase and others like it (such as "Take it easy!" or "Have a good one!"), but they're too informal for a professional letter , even when corresponding with someone that you know. They are more appropriate in a low-stakes personal email.
Never sign a letter without an ending phrase. While it may not initially seem consequential ( it's just one word, right? ) it can come off as impersonal and abrupt to the reader. It's best to always include some kind of salutation before your signature.
Unless it's a harmless note to a close colleague, there's no need for a postscript. It can come off as childish, and all the important information you need to convey to a reader should already be included in the body of your letter.
Here are 74 ways to sign off your greeting card (or — letter, email etc.).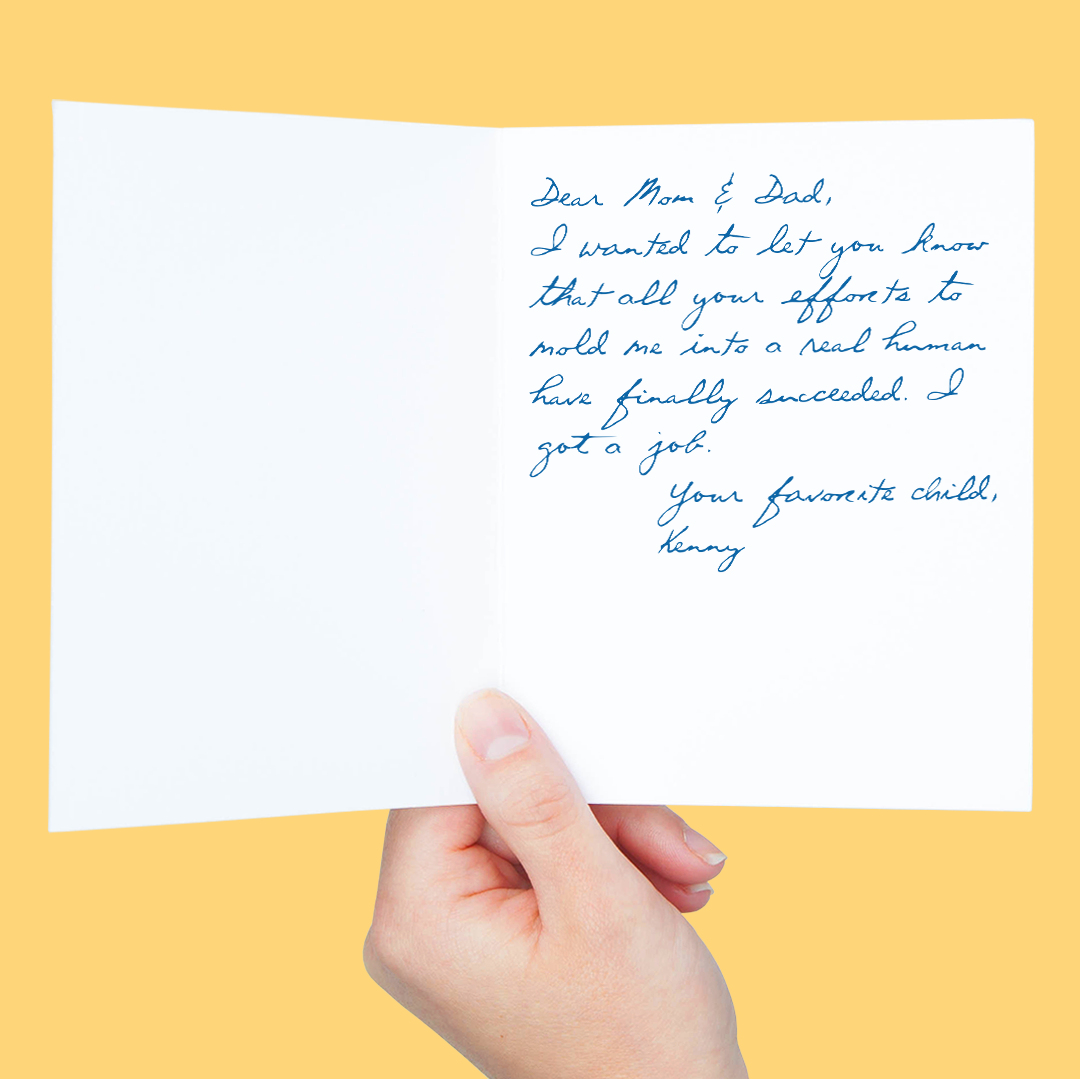 Much of our communication has been drastically changed over the course of 2020. We've gone from seeing our friends and family weekly, if not daily, to coping through months apart. Thankfully we're in a technologically advanced age and Zoom happy hours will forever be a favorite pastime that we all can look back on. We've also been using written communication far more often than before — who knew receiving a friendly greeting card out of nowhere can be such a source of joy (we did)?! And so after you've finished composing the perfect friendly letter or delightfully friendly greeting card message, you've got to end your letter with a friendly BANG!
Love
With Love
Lots of Love
Later Gator
Toodles
Your Pal
Cheerio
My Best
All the Best
My Best to you
Warm wishes
Warmest
Take Care
Peace
Be well
Yours
Take it easy
xoxo
Sincerely Yours
Cheers!
Ciao
Hugs
Yours Lovingly
Your friend
Wishing you the best
Forever thankful
Write soon
Your loving ____ (ex: daughter)
Yours faithfully
Confidently yours
Excitingly yours
Missing You Dearly
Fondly
Hugs & Kisses
Kisses
Have a good one!
Good luck
Live long and prosper
Until next time
Cheerfully
Stay well
Your favorite child
Source:
https://www.glassdoor.com/blog/guide/how-to-end-a-letter/
https://www.postable.com/blog/how-to-sign-a-card/
https://www.interviewkickstart.com/career-advice/how-to-end-a-business-letter